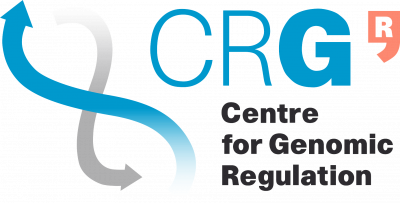 FUNDACIO CENTRE DE REGULACIO GENOMICA, CRG
The Centre for Genomic Regulation (CRG) is an international biomedical research institute of excellence located in Barcelona, Spain, whose mission is to discover and advance knowledge for the benefit of society, public health and economic prosperity.
CRG believes that the medicine of the future depends on the groundbreaking science of today. The breadth of topics, approaches and technologies at CRG permits a broad range of fundamental issues in life sciences and biomedicine to be addressed. Research at CRG falls into four main areas: gene regulation, stem cells and cancer; cell and developmental biology; bioinformatics and genomics; and systems biology.
The CRG hosts more than 400 scientists, organized in four multi‑disciplinary research programmes, offering an integrated view of biological systems and their alterations in disease. CRG offers numerous (and often unique) possibilities for collaboration in various areas of human health and personalized medicine (e.g. novel targets and mechanisms in oncology, exosomes and genome sequencing, tissue regeneration and engineering, and the study of the microbiome). Through cutting-edge core facilities, the CRG provides expertise and infrastructure for Advanced Light Microscopy, FACS, Genomics, Proteomics, Bioinformatics, Screening/Protein Technologies and Tissue Engineering. Since 2015 the CRG also integrates the National Centre for Genomic Analysis (CNAG), the 2nd largest center in sequencing capacity in Europe. Tools and technologies are also available for partnering and licensing in the fields of cancer and immunology, lung and infectious diseases, rare diseases, neurodegeneration, protein engineering, regenerative medicine and vaccination.
Lead of Work Package: SENET – Sino-European Health Networking Hub. Responsible for the planning and implementation of the Expert thematic group meetings and contributions to all other WPs.
Click here to visit the website